The 23rd Annual Seattle Polish Film Festival is in full swing! Northwest Film Forum hosteda free screening of "Sexmission" on October 7th. Vodka and a Drop of Art was a great success on October 8th. Attendees got to rub shoulders with our guests at Tin Lizzie Lounge on October 9th. There's so much more to come! Visit the film festival site often! You can see photos from the event by Gail Ann Photography at www.epnw.phanfare.com
OF course the festival would not be possible without the generous support of our sponsors:
---
Special Thanks to our 2014 Sponsors  
22nd Annual Seattle Polish Film Festival!
---
Seattle Polish Film Festival and Northwest Film Forum will present recently restored Polish classics handpicked by Martin Scorsese in Seattle July 7-10 and October 6-9.
For an interview with Martin Scorsese click here
To keep up with the latest Like us at: https://www.facebook.com/seattle.polish.film.festival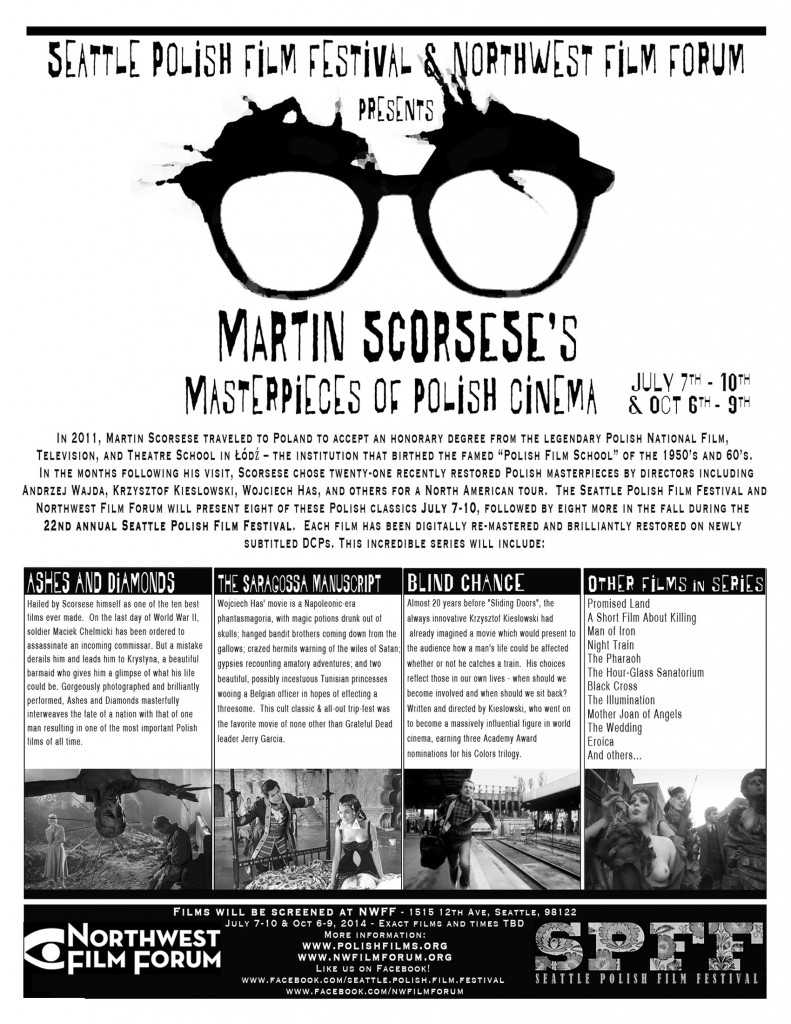 ---
20th Annual Seattle Polish Film Festival sponsors and photos:
We would like to thank the following for their generous donations:
*PATRONS $10,000
Polish Filmmakers Association
Polish Film Institute
*BENEFACTORS $4,000 TO $9,999
Consulate General of the Republic of Poland in Los Angeles
*PARTNERS $1,000 to $3,999
PSG Films
*SUPPORTERS $250-$999
Dr. & Mrs. Michal and Marianne Friedrich
Ladies Auxiliary, PHA
Maria & Ryszard Kott
Miramar Inc.
Polish Home Foundation
Polyways Travel
Ron & Martha Golubiec
*FRIENDS up to $249
George's Sausage & Deli
Hanna & Pawel Krupa
Krystyna Untersteiner
Margaret Kucharski
Marija & Piotr Horoszowski
Mary N. Parker (in memory of Kazimiera Szczerba)
Michael & Susan Peskura
Mike & Barbara Waske
Polonez Automotive
Robert Michalak
Roman Rogalsksi & Diana Tattoni-Rogalski
UW Polish Studies Endowment Committee
Wodzin Family
---
SPFF Mission Statement
The Seattle Polish Film Festival has as its goal the promotion and appreciation of Polish culture and history through cinematic works of quality.  It is our belief that Poland has a rich history of cinema that has a broad appeal to Seattle's film-going public, one of the most active film-going communities in the country.  We strive to break the mold of a niche, ethnic film festival and bridge the gap between Poles and non-Polish speakers by incorporating a wide variety of films into our program, including Polish Independent and Polish-American works.  We also promote SPFF as a powerful networking tool between well-known artists from Poland, working Polish-Americans in the film and television fields from across the US, and the Seattle film-going and film making public.
Meet the team
Zbigniew Pietrzyk, Managing Director: A prominent member of Poland's Solidarity movement, Zbigniew has lived in Seattle since 1983, and has served in a variety of different roles with both Polish Home Association, as well as Seattle Gdynia Sister City Association.
Michal Pietrzyk, Festival Co-Director: Zbigniew's son Michal is a 7 year veteran of the television production field, and is Director of Operations at local television production company PSG Films, who make documentary programming for the National Geographic Channel.  Michal's work in documentary has taken him as far as Siberia and Kazakhstan.
Many volunteers are still needed to work with our professionals. If you are interested please contact us at sgsca12@gmail.com